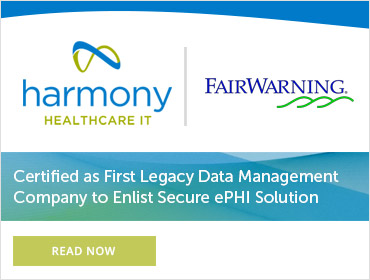 Back to blog
FairWarning, Inc. Certifies Harmony Healthcare IT as First Legacy Data Management Company to Enlist its Secure ePHI Solution
12.12.2017
Clearwater, FL and South Bend, IN – December 12, 2017 – FairWarning, Inc., a leading provider of solutions which expand trust in mission critical applications such as Electronic Health Records (EHRs), and cloud-based applications, today announced that it has joined forces with Harmony Healthcare IT, a leader in EHR and Enterprise Resource Planning (ERP) legacy data management.  This is the first time a discrete data archiving company has been certified by FairWarning to implement its audit platform for monitoring the long-term security of historical patient and employee record storage.
Healthcare organizations are faced with managing massive amounts of data, and they need to streamline and secure that data throughout its entire lifecycle to meet record retention mandates and compliance regulations such as the Health Insurance Portability and Accountability Act of 1996 (HIPAA). Together, FairWarning and Harmony Healthcare IT ensure that electronic Protected Health Information (ePHI) within Harmony Healthcare IT's Health Data Archiver (HDA) product is monitored and protected for unusual activity and compliance through FairWarning's Patient Privacy Monitoring Platform.
"Legacy data represents a considerable amount of ePHI that must be retained sometimes up to 25 years or more. As healthcare providers continue to replace EHR and ERP systems, more and more data is being migrated to a secure and accessible archive solution," said Jim Hammer, vice president, product and program management at Harmony Healthcare IT. "Our product, Health Data Archiver, already has audit log capabilities built in, but, FairWarning provides an added layer of protection with ongoing monitoring and alerts of potential threats for the lifetime of record management."
"As insider threats and cybercriminals have advanced their tactics to obtain patient data, healthcare organizations have become proactive in monitoring and securing ePHI, as an integral part of patient care," said Scott Baker, Director of Alliances at FairWarning. "Hospitals that are already using FairWarning to monitor and protect their full-production EHRs can now also protect their consolidated historical records from other legacy systems for a wholistic and compliant patient data-protection program."
About FairWarning®
FairWarning® is a leading provider of privacy and information security solutions which expand trust in mission critical applications such as Salesforce, Electronic Health Records and cloud-based applications. Auditing over 300 business applications, FairWarning solutions empower businesses globally to grow their reputation with their customers, increase velocity in their business and comply with complex federal and state privacy laws such as HIPAA, PCI, SOX, FISMA and EU Data Protection Act. FairWarning provides a comprehensive platform and managed services for performing forensic investigations of applications, enforcing access policies, conducting legal investigations, and improving compliance effectiveness. FairWarning catches people stealing your data.
About Harmony Healthcare IT
Since 2006, health IT analysts at Harmony Healthcare IT have extracted demographic, financial, clinical and administrative data for hundreds of healthcare provider organizations – both ambulatory and acute. Headquartered in South Bend, Indiana, the company's mission is to preserve vital information that will improve lives. Harmony Healthcare IT employs experts in data extraction, migration, archival, retention, integration and analytics to provide its clients with trusted solutions. Working with hundreds of applications, billions of records and petabytes of data; Harmony Healthcare IT with its product, Health Data Archiver, provides clients with access to historical records. Simply. For more information about the company, visit: www.harmonyhit.com. For information about Health Data Archiver, visit: www.healthdataarchiver.com