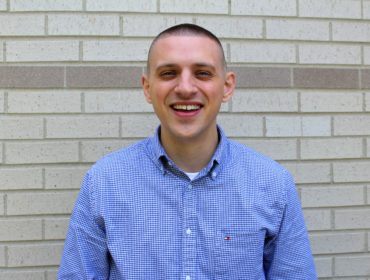 Back to blog
You're Hired! Internship Develops into a Full Time Position
08.31.2017
Nick Moskolis joined Harmony Healthcare IT (HHIT) as a 2017 summer intern and ended the season with a full time position as a Quality Assurance Analyst. A Psychology major from Indiana University – South Bend, Nick says he appreciated the opportunity to meet everyone at Harmony Healthcare IT and learn from the development team before he was hired in full time.
"The most exciting thing I learned was how the software development life cycle works and how each team fits into that process," explained Nick.
Nick on Harmony Healthcare IT:
Harmony is a growing company, which provides a lot of opportunities. The work atmosphere here is great and it is awesome to see fellow millennials working hard and all striving toward the same goals.
Quote from Nick's supervisor Dan Brubaker Horst:
"Internships are a great opportunity to get hands-on experience. The best ones are where the interests of the intern and the needs of the company align perfectly. From the very beginning, Nick has been dedicated to and enthusiastic about his role in testing and validating our software. He is a crucial member of our team and we are delighted that he could join us in a permanent position."
Nick on trends in healthcare technology:
It is important to stay up to date with all the new advances in IT or you will quickly be outdated. This is a field that is continuously growing and people who work in the field need to be informed on new advances.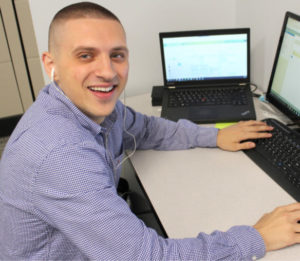 Nick's Career Goals:
My plan is to continue to grow and learn in the Software Quality Assurance field.  I will strive to be the best I can possibly be for Harmony Healthcare IT and myself. This is the beginning of the road for my career and I plan to do great things!
Nick on being a lifelong South Bend resident:
I love South Bend and intend on living here for the rest of my life. From the Notre Dame games to the South Bend Cubs games, I have a variety of sport activities I can follow. Also, downtown South Bend is continually growing and has new activities and restaurants popping up often, including awesome food and fun activities on the East Race!