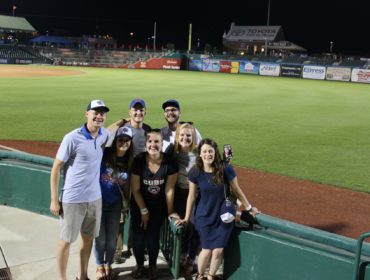 Back to blog
A Grand Slam Summer Outing for the Harmony Healthcare IT Team
06.15.2017
Last week, Harmony Healthcare IT (HHIT) team members, friends and family enjoyed a South Bend Cubs minor league baseball game at Four Winds Field in South Bend, IN.  The summer outing included a dinner of hot dogs and hamburgers, a birds-eye view of the game from the 1st Source Bank Performance Center balcony, fun at the splash pad for the kids, and a relaxing atmosphere to share cold drinks and warm conversations.
"Getting together outside of work is always a great opportunity to interact with coworkers," says Anthony Lupresto, database analyst.  "It's events like this that promote our interpersonal work relationships – and that's exemplified in our improved communications daily at the office."
A visit from Andrew Berlin, chairman and owner of the South Bend Cubs and partial owner of the Chicago Cubs, brought additional interest to the night out.  "We were thrilled to host Harmony Healthcare IT at Four Winds Field," says Berlin.  "There are two things I love to see on summer nights.  First, how our farm system allows us to see the baseball stars of tomorrow play in South Bend today.  Second, how our ability to host local companies at these games allows me to greet and meet the corporate stars that also work right here in our community."
We couldn't agree more withAndrew Berlin.  At Harmony Healthcare IT, we recruit top local talent to contribute to our mission of preserving vital information that improves lives.  Since 2006, health IT analysts at Harmony Healthcare IT have extracted demographic, financial, clinical and administrative data from hundreds of healthcare systems- both ambulatory and acute.  Working with hundreds of systems, billions of records and terabytes of data, Harmony Healthcare IT — with its product, Health Data Archiver — provides clients with access to historical records. Simply.
"It's important that we take time out of our intense work days to celebrate our team and our collective success as a company," says Brian Liddell, CFO of Harmony Healthcare IT.  "We balance work with play and enjoy an annual summer outing that brings our families together in our thriving hometown."
Thank you, South Bend, once again, for a fun-filled evening.