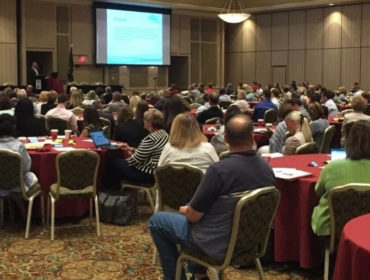 Back to blog
Harmony Healthcare IT CEO Participates in Rural Health Conference
06.13.2017
Tom Liddell, CEO of Harmony Healthcare IT and Board President of the Indiana Rural Health Association (IRHA), participated this week in the 20th Annual Rural Health Conference and Annual General Membership Meeting.
IRHA's Annual Conference brings together physicians, nurses, pharmacists, public health professionals, and other rural health practitioners and advocates with residents of rural communities. Practitioners from the field and national experts discuss current topics, as well as share the experiences of others in public health and rural health care delivery, along with the latest information regarding the start-up and on-going management of rural health care delivery models.
"This is important work," says Liddell.  "From our keynote and plenary sessions to our mobile simulation lab to our networking events, we aim to explore and advance public and rural health Initiatives."
With a theme "Rural Health:  Economy, Impact, Care," the goals of the conference were to:
Recognize the national efforts to support population health and healthcare reform in rural communities
Examine unique rural health policy challenges related to finance and quality measurement and resource allocation
Recognize how to effectively engage rural populations and leverage community partnerships
Recognize the need to integrate primary care and behavioral health
Recognize the role of public health and its importance in rural medicine
Recognize the current state of opioid abuse in Indiana and how collective efforts can steadily influence the pain population markets
Recognize the need for school-based outreach in a rural community and how it can advance the mission of organizations
Recognize the benefits of integration of mental health services into primary care in rural settings
Recognize the different types of telepharmacy and how it is improving patient care
Learn how regulatory changes impact revenue cycle management.
About Harmony Healthcare IT
Since 2006, health IT analysts at Harmony Healthcare IT have extracted demographic, financial, clinical and administrative data from hundreds of healthcare providers – both ambulatory and acute. Headquartered in South Bend, Indiana, the company's mission is to preserve vital information that will improve lives. Harmony Healthcare IT employs experts in data extraction, migration, retention, integration and analytics to provide its clients with trusted solutions. Working with hundreds of systems, billions of records and terabytes of data, Harmony Healthcare IT — with its product, Health Data Archiver — provides clients with access to historical records. Simply.
About IRHA
The Indiana Rural Health Association (IRHA) is a not-for-profit organization representing a diverse statewide membership consisting of individuals and organizations committed to the improvement of health and resources for rural Hoosiers. IRHA seeks to provide a meaningful forum for assessing the strengths and weaknesses of the health and safety of rural communities in Indiana. IRHA seeks to provide educational programs that focus on the unique needs of the residents of rural Indiana and the providers who serve them. IRHA also works to educate the public on relevant issues and focus unified efforts to bring about the necessary changes in public and private policies to ensure that all rural Hoosiers have access to quality health care in their own communities. More information about the IRHA can be accessed through www.indianaruralhealth.org.