Back to blog
HITECH's Impact on EHR Implementations
05.28.2013
Software Advice, a trusted resource for medical software buyers, recently published results of a long-term study following demand drivers among prospective buyers of electronic health records (EHR) software.
In 2009, in the wake of the HITECH act, Software Advice analysts speculated that physicians rushing to qualify for incentives might make hasty purchase decisions, leading to unsuccessful implementations. Since then, the company has gathered data on tens of thousands of practices considering medical software purchases. They analyzed that data to determine the drivers for EHR software purchases today versus immediately following the HITECH Act.
The study compares data from Q1 2010 – just after HITECH was signed into law – with data from Q1 2013. Broadly, here's what the results showed: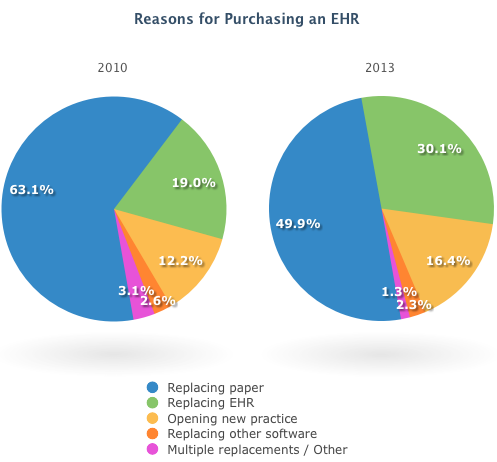 Findings in both 2010 and 2013 show five main reasons for EHR purchases. Practices are either:
Replacing existing EHR software;
Opening a new practice;
Replacing paper records;
Replacing other software, such as Microsoft Office, which was not specifically designed for medical records; or
Replacing combinations of the above.
Though "replacing paper records" comprises the biggest piece of the pie in both sample periods, the percentage of physicians transitioning from paper dropped significantly from 2010 to 2013 (from 64.9 percent to 50.9 percent).
Conversely, the share of practices replacing existing EHR systems grew by nearly fifty percent, from 21.0 percent in 2010 to 31.2 percent in 2013. This trend supports Software Advice's assertion that the need to replace unsuccessful implementations is an increasingly bigger driver, while the need to transition from paper to electronic is an increasingly smaller one.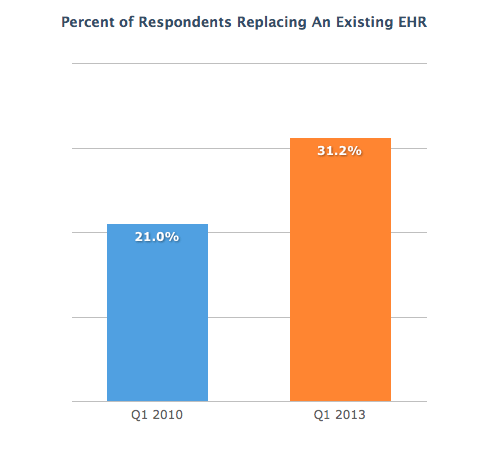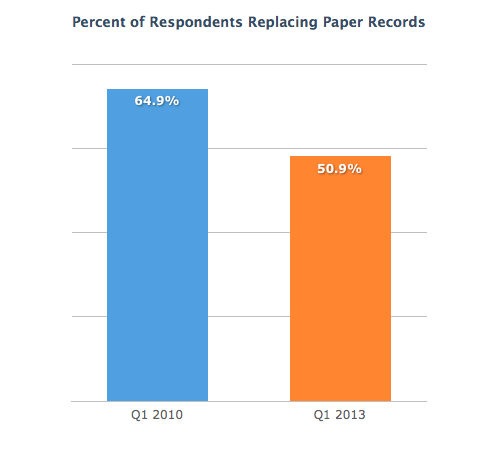 Replacing Existing EHRs
The chart below summarizes why practices are replacing existing EHRs.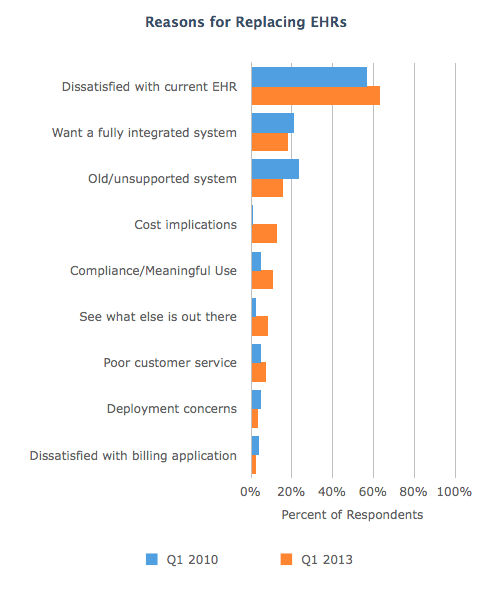 Vendor Dissatisfaction Increases
The findings of the study demonstrate that more buyers today are dissatisfied with their current system. The number of providers specifically mentioning being "unhappy with current EHR" increased by 11 percent.
Also observed is a significant rise in cost as a primary concern as well as customer service concerns growth by 50 percent. All told, 74.2 percent of respondents replacing an EHR mentioned a vendor-specific concern (such as dissatisfaction, cost, or customer service) in 2013, compared with only 58.8 percent in 2010.
Not included in those counts are buyers who mention "looking to see what else is out there" – i.e., providers who may not be explicitly unhappy with their current EHR, but aren't totally satisfied either. That category by itself grew by 232 percent from 2010 to 2013.
Replacing Paper Charts
As previously noted, the percentage of buyers replacing paper charts decreased significantly, from 64.9 percent in 2010 to 50.9 percent in 2013.
Data was collected on why respondents were looking to move from paper to electronic. However, due to the method of data collection in 2010, more than half of the respondents replacing paper records during that sample period did not provide a reason why. As a result, we are limited in the claims we can make about the data within this category (though the category itself can still be used confidently as a means of ranking the reasons for buying an EHR in general).
Somewhat surprisingly, qualifying for incentives ranked only sixth as a reason to replace paper records in 2010, with higher-ranking reasons reflecting a desire to realize the benefits of a paperless practice. However, excluded from the "incentives" category are mentions of CCHIT certification, and a few respondents who cited "it's required" – presumably a reference to (albeit a misrepresentation of) the HITECH Act. If we include those mentions, then incentives rise to first place.
For the 2013 sample period, predominant reasons for switching from paper records were a desire to reduce paperwork and/or improve efficiency. Stimulus funds did show a significant drop in 2013, falling to seventh, from 8.2 percent of reasons given in 2010 to 5.4 percent in 2013.
Underlying the results is a distinct sense of inevitability, with 15.8 percent of respondents citing reasons along the lines of it simply being "time to make the move."
Conclusions
Overall, the findings of this study are consistent with the HHS's recently announced "tipping point" – doctors are increasingly adopting or using EHRs. However, these results add deeper context; with replacements on the rise,  we see a shift in buyer attitudes that highlights the importance of a rigorous process for software selection and implementation.
The findings in the study point to the necessity for software buyers of having a reliable plan for assessing a product before making a purchase. The results should not be construed to discourage potential buyers from purchasing an EHR.
Because the survey sample included only prospective buyers, the results say nothing about the countless cases of successful EHR implementations, where buyers are satisfied with their purchase and have realized a positive return on their investment. These are typically practices which made careful, thoroughly-researched purchases.  All prospective buyers are encouraged to do the same in order to reap the benefits of an electronic practice.
David Fried originally contributed this report to Software Advice, where he currently covers medical practice management, the EMR industry, and political and regulatory issues affecting doctors. View the full report, including methodology and limiting factors: Four Years Later: The Impact of the HITECH Act on EHR Implementations. David's previous experience includes research and development for a medical technology consulting firm; journal articles related to healthcare, agriculture, and entertainment; user manuals in the EMR, semiconductor, and mechanical engineering industries; and ghost writing and editing nonfiction books.